This article, Yusuke Urameshi (Nikon23), is property of Nikon23.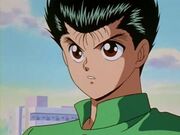 Yusuke Urameshi

Race:

Human/Demon Hybird (Mazoku)

Gender:

Male

Family:

Toshin Raizen (Ancestral Forefather)
Riazen's Lover (Ancestral Foremother)
Atsuko Uramsehi (Mother)
Yusuke's Father (Father)
Keiko Yukimura (Wife)
Jin Urameshi (Son)
Genkai (Mentor)
Koenma (former boss)
Botan (former assitant)

Debut:

Manga: Yuyu Hakusho Chapter #1 Anime: Yuyu Hakusho Episode #1

Appears in:

Yuyu Hakusho & Yuyu Hakusho Beyond
Early Life:Edit
Yuyu Hakusho:Edit
Spirit Detective Saga through Dark Tournament Saga:Edit
The Golden Seal (Movie):Edit
Potergiest Report (Movie):Edit
Chapter Black Saga Three Kings Saga:Edit
Yuyu Hakusho Beyond:Edit
Fighting Techniques:Edit
TransformationsEdit
Ad blocker interference detected!
Wikia is a free-to-use site that makes money from advertising. We have a modified experience for viewers using ad blockers

Wikia is not accessible if you've made further modifications. Remove the custom ad blocker rule(s) and the page will load as expected.